The YBF   via Huff Post Black Voices
Congratulations are in order (if true) for Kimora Lee Simmons and her husband Tim Leissner. Get the deets on the couples' ALLEGED new baby news inside…
There may be a new baby to add to Kimora Lee's clan.
According to reports, Kimora Lee and her banker husband Tim Lessiner are expecting their first child together, Kimora's fourth. The new bundle of joy will be joining big sisters Ming (14) & Aoki (12), whom she had with Russell Simmons, and big brother Kenzo (5), whom she shares with Djimon Hounsou.
Kimora has yet to confirm or deny anything.
This summer, supermom Kimora, her three kids and family friends kicked back on vacation in Corsica, France: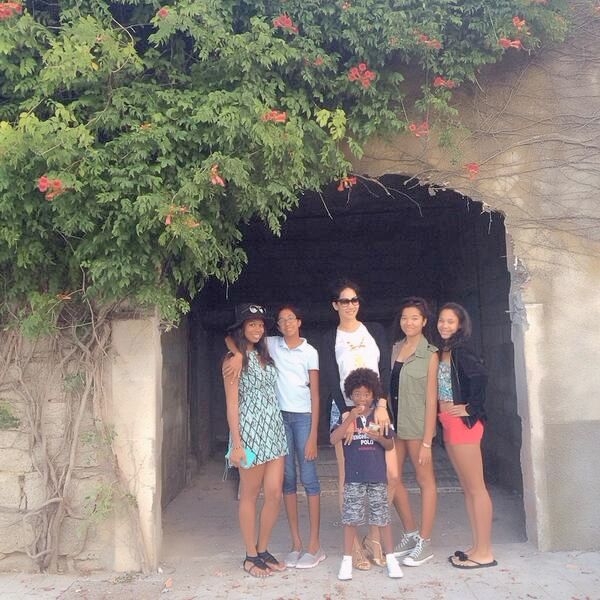 The 39-year-old fashion icon is reportedly four months along, which means she will give birth around Spring 2015. A refresher on Tim…he holds a Ph.D. and is the Co-President of Goldman Sachs Singapore. He also does major investment banking in Southeast Asia.
PageSix sources say the married couple was spotted out to eat at Gallaghers Steakhouse in Midtown on Saturday night. Possibly celebrating their new blessing. Those two can barely keep their hands off each other, so it wouldn't be too much of a shock.  Kimora and Tim were spotted in a hot and heavy moment a little while ago making out in the back seat of their vehicle.
So….do we believe it? Is Kimora about to be a mom for the fourth time? Time will tell…
If true, congrats Kimora and Tim!