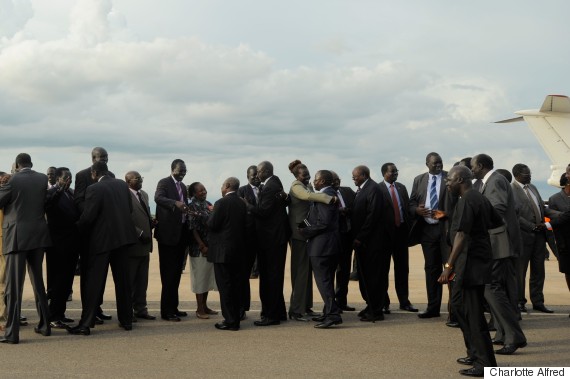 Charlotte Alfred              -Huff Post World Post
JUBA, South Sudan — After more than a year in exile, five former political detainees arrived in South Sudan's capital city of Juba this week for several days of talks with President Salva Kiir. Their return offered a rare moment of hope in the country's long-faltering peace process.
The new nation erupted in conflict in December 2013 after Kiir accused a group of government officials he had sacked earlier that year of trying to stage a coup. One of them was former Vice President Riek Machar, who fled the capital and has been leading forces fighting the government ever since. Another 11 senior officials were thrown in jail for treason and exiled to Kenya in early 2014 — including the five former officials who returned for the first time on Monday.
Their visit to South Sudan is a rare tangible development in eighteen months of fruitless peace talks. There was cautious hope in the capital that the former detainees' short visit would be able to help negotiate a permanent return for them and the rest of the exiles, and to form a new government that can end the war.
The former officials stepped off the plane on Monday into the embrace of waiting friends lined up outside Juba airport. "This is a great day for peace in our country," Deng Alor, one of the returning ex-detainees and a former cabinet affairs minister, said at a press conference at the airport. "It's about time all of us come to our senses and stop this war."
Just four years ago, South Sudan was lauded as an example of peace triumphing over war when the country voted to become independent from Sudan. The rebels who had fought Sudan's government in Khartoum for decades came together in a political party called the Sudan People's Liberation Movement and formed the country's first independent government.
Two years later, the movement had splintered into the rebels fighting in the north, the exiles in Kenya and the government in Juba, and the split ignited ethnic tensions in the young country. Members of Kiir's Dinka and Machar's Nuer communities accused one another of planning a power grab. A political crisis spilled over into ethnically motivated slaughter that has torn the country apart. The war has left tens of thousands dead and 2 million displaced from their homes, and human rights groups warn of widespread sexual violence and the use of child soldiers on both sides.
Presidential spokesman Ateny Wek Ateny told The WorldPost that the president welcomed the exiles' return, but indicated that difficult negotiations lie ahead if the exiles choose to re-enter the government. He said the detainees would be offered "senior positions," but should not expect to simply get their old jobs back, as they were fired in 2013 for good reason. Ateny also said that President Kiir's role is non-negotiable. "No one in their right mind will accept to be negotiated out of power," he said.
While authorities have dropped criminal charges against all the exiles, there were signs that mutual suspicions persist. Some of the most well-known former detainees remained out of the country, choosing not to join their colleagues in Juba. Those who did return this week demanded international protection while in the country, and were flanked in the capital by leading officials from the governments of Tanzania, South Africa and Ethiopia.
Once political allies of Machar, since their exile the detainees have tried to portray themselves as a middle ground between the government and the opposition. They have been highly critical of Kiir, but also raised Machar's hackles when they declined to join his opposition alliance after he campaigned for their release from jail.
Machar himself is the glaring absence in the ongoing discussions. The former vice president is presently holed up in the rebel-held town of Pagak, supported by high-level military defectors. Members of Machar's group have accused the former detainees of selling out. The exiles said on Monday that they would meet with both Kiir and Machar in the coming week.
Click here for full post.