January 22, 2014 //
0 Comments
By BRIAN MAHONEY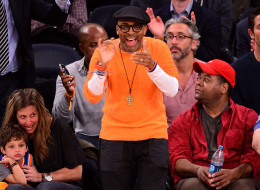 NEW YORK (AP) — Spike Lee can now talk about his beloved New York Knicks, or any other basketball topic, all he wants.
The director and passionate Knicks fan will host a show on SiriusXM NBA Radio beginning next week, discussing topics from around the league.
"Spike Lee's Best Seat in the House" debuts Jan. 30 at 7 p.m. EST on Channel 217 and will air every other week, featuring guests from both the sports and entertainment worlds.
James Devaney via Getty Images
Lee has courtside seats at Madison Square Garden, where he famously exchanged trash talk with Indiana's Reggie Miller during a playoff game. He also wrote and directed "He Got Game," which starred Miami's Ray Allen and is one of basketball's best-known films.
"While he's well known for his courtside allegiance to the Knicks, he knows the league and its history inside and out and can bring together the worlds of basketball and entertainment like no one else can," SiriusXM president and chief content officer Scott Greenstein said in a statement.
Lee will also host a non-sports show featuring long-form interviews every two weeks. Details are still being finalized.
NBA Radio debuted last month, with former players and coaches hosting shows and the broadcast of at least 14 live games a week.
Similar posts
September 4, 2015 //

0 Comments

Veronica Hilbring  -Hellobeautiful Look at this photo of John David Washington with his parents, ...

September 3, 2015 //

0 Comments

by theGrio Wendy Williams thinks Nicki Minaj shouldn't have clashed with Miley Cyru...