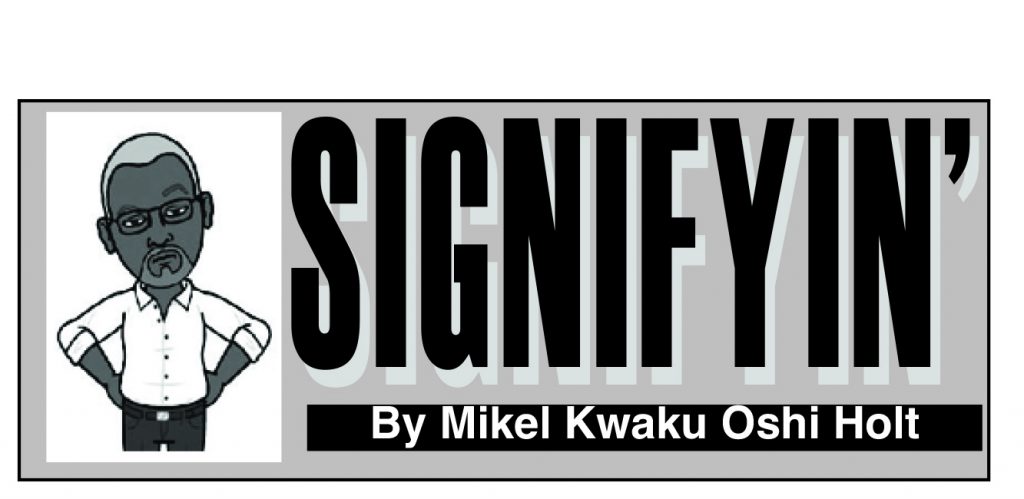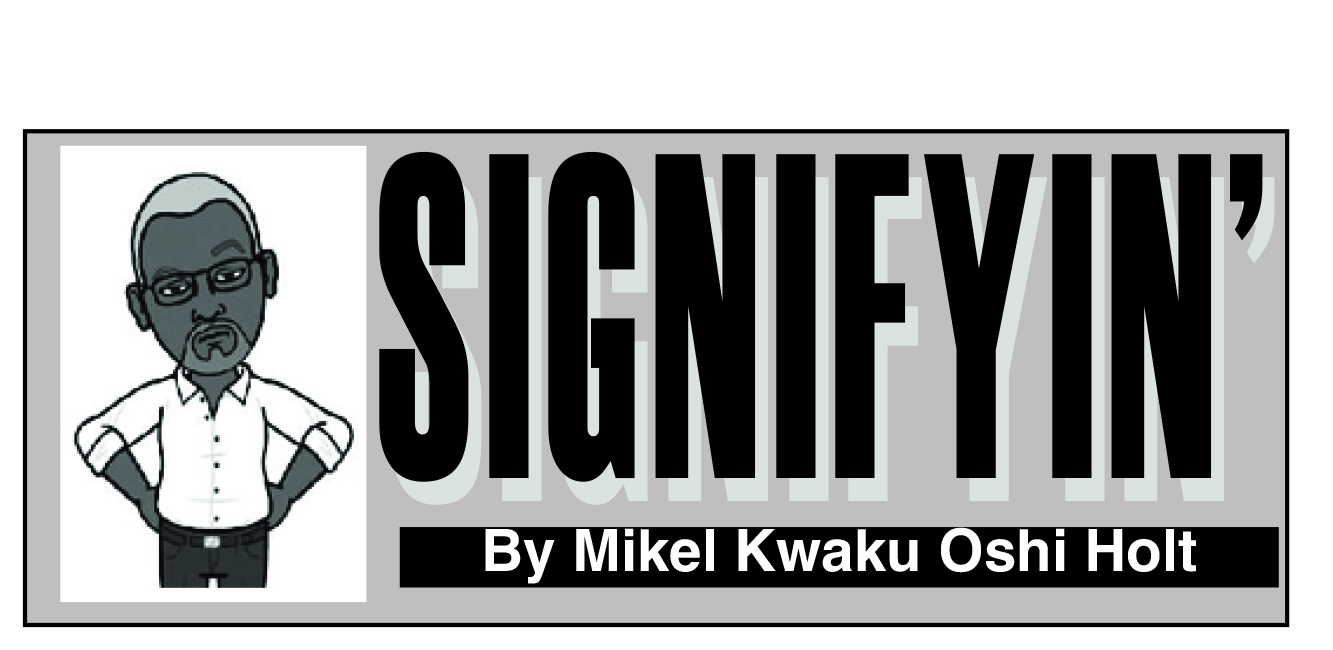 More often than not, something said in this column gets up under a few readers' skin.
Last week's column apparently sent a few people's bodies into Nuclear convulsions.
In case you missed it and want to utilize your insurance before the GOP kills Obamacare, go to milwaukeecommunityjournal.com.
But I warn you to put on your seatbelt 'cause it's gonna be a rough ambulance ride, particularly if you were brought up to believe Barack Obama was the first Black president or that white ice get's colder.
For that I'm not apologizing, since as usual, that was my intent.
If you missed it and want to find out what the hoopla was about, go to milwaukeecommunityjournal.com and entertain and educate yourself.
The column posed the question of whether President Donald Trump—45IQ as some of us call him—is a racist.
Or, as some claim, including the nephew of Dr. Martin Luther King, Jr. (aka the Far Right's "Negro of the Week") that he's just misunderstood; he's "ignorant, or an arrogant elitist".
I answered affirmatively to the question and added that 45IQ was in "good" company, as many, if not most, members of the 18th and 19th century Presidential Fraternity were not only racists, but also bigots. And in the column, I not only named names, but offered evidence.
For point of clarification, I offer my definitions:
A racist is someone who believes their "race" (actually ethnicity) is superior to another, or, that another race is genetically, culturally or spiritually inferior.
A bigot is a racist with power, someone who undertakes actions to hinder, hurt or harpoon people because of their ethnicity.
Thus, the White Supremacists who marched in Charlottesville were racists. The racist who murdered the counter-demonstrator—who happened to be white—was a bigot.
Neither of those two concepts should be confused with prejudice, which means to pre-judge someone—to believe unfounded stereotypes and assumptions.
That Black people have rhythm is a stereotype—albeit true. Conversely, to assume the three teenagers heading in your direction with their pants down by their ankles are thugs is to pre-judge, or to be prejudicial (and that's not based on race, since most Black folks will probably make the same assumption).
Some would say there is a thin line between prejudice and racism. To surmise that Black people are lazy is an erroneous stereotype, disproved by history and circumstance. But if you say, we are lazy because of some genetic trait, that's racist.
Racism, as I view it, isn't just an attitude, it's a cancer, a deadly man-made disease that is contagious and frequently incurable. And sadly, it's often undetectable.
Racism is an invention, a tool created to divide the ethnicities.
Even the term is abstruse on its face since there is but one race, which undermines the essence of the concept of White supremacy since the "human race" originated in Africa, which means the original man and womb-man were Black.
I hope I'm not confusing you, but apparently, clarification is needed before I get to people's complaints/comments/misconceptions/fears.
Several readers seemed to be upset that I called out a half dozen U.S. presidents as being racist. Actually, I was being modest, as there are far more than six who believed that they were Tarzan and we were the apes.
A schoolteacher (is it prejudicial to assume she was white?) was shocked that I referred to Thomas Jefferson as a rapist, along with him being a racist.
She said it was particularly a disingenuous statement given that the country is in the midst of a sexual harassment backlash as a result of the "Me Too" Movement to suggest a founding father, a hero of the empire (my words) who penned the Declaration of Independence could have his reputation tarnished by my declarations.
To the teacher I say, even the most sanitized His-story book acknowledged that Jefferson owned slaves, and while there are those who want to advance the illusion that his mistress, Sally Henning, was his love interest, she was still his slave.
I don't know if Henning loved Jefferson. Maybe she was infatuated with him. Or maybe she felt it better to be his booty buddy than his cotton picker.
Either way, by all accounts Jefferson had sex with her when she was underage, which is statutory rape (unless he used the Roy Moore defense) and, as a slave wasn't afforded the God-given right to resist her "massa".
Hmmm. Now that I think about that scenario, by today's culture, Jefferson could have been charged with pedophilia and bestiality. The latter indictment stemming from the laws of the land that made slaves chattel…in essence animals.
OK, I'm on a roll, so let's continue.
A couple of folks also questioned my statement that you can be a "hero of the realm", or do noteworthy things and still be a racist.
My assessment, it was noted, sounded much like 45IQ's declaration that there were "good" people on both sides of the battlefront in Charlottesville.
Hmm. Yes, no, maybe?
Was Abe Lincoln a good person? Wasn't he a hero to African Americans? Wasn't he the "great emancipator"?
If you say yes, how do you reconcile those "facts" with his belief that we were inferior to White people?
What about President Lyndon B. Johnson? He did more to advance civil rights than any other president in history did, but he was known to be a racist, and called Black folks niggers as often as Snoop Doggy Dud does.
This prompted another question. Can you say something racist, but not be racist?
I grew up with a white guy who earned his stripes in the civil rights movement and married a sister. He was known to call close Black associates his "nigga" (not me, cause this homey never played that self-denigrating game). Is he a racist?
In fact, let me take this to another level.
Can a liberal Democrat be a racist?
I say, helllllllllll yes, because I know many who fit both descriptions.
You can march alongside us, vote for Obama, learn the lyrics to every hip hop song and have sex with a Black person and still be a racist, in fact, many of those who pose for holy pictures and call Trump a bigot, are in fact themselves racists. And what makes them worse is that most don't even know it.
What would you call a White teacher who perpetuates the lie of European superiority through the use of "His-story" books, manifest destiny and a Caucasian Jesus? Can they still love the 'po, underprivileged and uncivilized Black boys and girls? Obviously.
Let me spread a little lens cleaner on your fogged-up glasses.
I contend that political conservatives want Black folks to pull themselves up by their bootstraps. Inherent in that suggestion is that there's something wrong with us, otherwise we would be equal and more adapt at achieving the American dream. The fact that we are dependent upon government assistance implies we are lazy or uncultured. They actually believe the Bell Curve theory.
That's racist.
But at the other end of the spectrum are the liberals who think we need assistance, a Nanny State, because we can't take care of ourselves. They believe we have loose morals and lack an acceptable value system. In other words, we are inferior.
Paternalism in that sense, is racism masked over.
In a nutshell, conservatives want to manufacture and sell us the boots. Liberals want to loan us the money to make the purchase.
And both entities benefit from White privilege and the residuals from our ancestors who built this country and the corporations and colleges that divide the races.
The most frequent concern I received was based on a misunderstanding of intent and definition.
Many people apparently confuse prejudice with racism. And what we may perceive as a racist comment, with the utterer being a racist.
Black people, particularly of my generation, are overly sensitive about perceived racist comments. We see a racist behind every tree, and as such hear some comments with a discomfiting ear.
During my 20-plus years on Sunday Insight, I was often confronted by Black viewers who surmised that the host, Charlie Sykes, was a racist because he didn't put a disclaimer on any statement about Black people.
Strangely, that changed after he emerged at the vanguard of the anti-conservative Trump movement and moved from occasional commentaries on Fox News to MSNBC and, the Bill Maher show. As I told him humorously, he finally came over to the dark side.
More often Charlie was accosted because he was conservative and frequently talked about the social negatives associated with Black people.
When I asked critics what he said that was "racist", generally the response was a less than faltering statistic. For example, he might say most Milwaukee crime is committed by African Americans, that 70% of Black households are headed by women, or that Milwaukee was home to one of the highest Black high school dropout rates in the country, a fact that was exacerbated by our hosting the worst 4th and 8th grade reading proficiency rates in the nation.
Racist? I guess you could try to link those statements to intent, or see some malice behind the words. But what if a Black person said the same thing?
Or what if the end result of an action is racist?
Hillary Clinton lost thousands of Black votes because of her support for her husband's criminal justice overhaul and his legislation to end welfare. Since both had an adverse impact on Black people, they were considered racist. But how can that be, given that Bill Clinton was once the darling of the Democratic Party, and the "first Black president" according to one activist?
In case it wasn't clearly offered in my column last week, I don't think my grandchildren will live long enough to see a "raceless" society. I have more hope than ever that we are moving in the right direction, particularly given the emerging Millennial culture that is more accepting of diversity than any before it.
In fact, I was talking with a bi-racial Millennial at a Vietnamese restaurant about my column a few days ago. As we were talking, a white woman entered to place a take-out order. A nice looking young boy who I assumed was about the same age of my granddaughter accompanied her. The woman smiled at me, which provided an opportunity for me to say, "if your son marries my African princess, it'll be a giant step toward solving the race problem in America."
I don't know if she was being facetious or not, when she responded, "yeah they would make some very beautiful children, I'm sure."
Well, that's probably true. But more importantly, is how they will look on the inside.
Hotep.