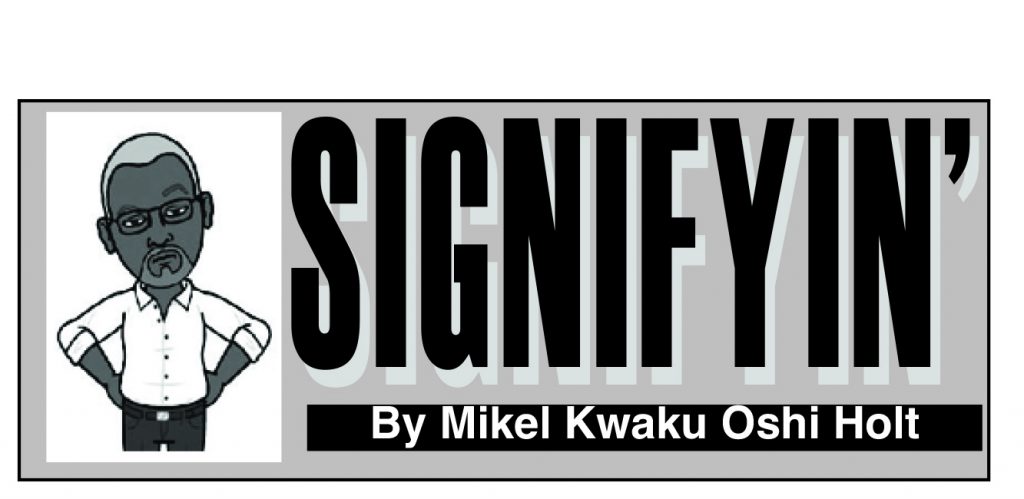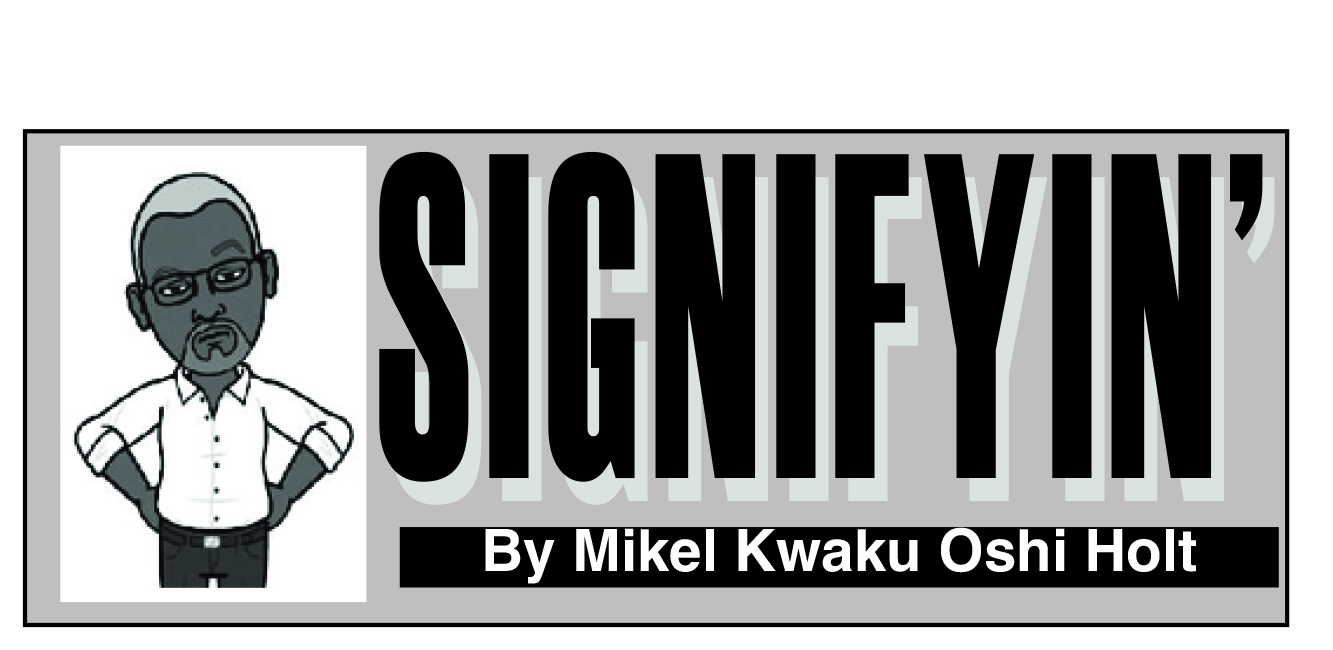 I never made a secret of my being a Black Nationalist. But don't get that confused with Donald Trump's declaration that he is a white one.  The Trumpster's recent announcement was a clear signal that he supports White supremacy. White Nationalists subscribe to 45IQ's agenda to "Make American Great Again," means when Negroes knew their place, Hispanics were locked into second-class citizenship and women popped out babies left and right, and were silent.
In a nutshell, bring back apartheid!
Conversely, Black Nationalism is a philosophy of Black empowerment, prioritizing our community family—our village—over that of others, including political parties.
We're not separatists, but we support Black institutions, village control of the institutions that impact our community, and Black economic development through support of those institutions.
As such, I bank at Columbia Savings; I use a Black plumber, electrician and carpenter. I try to make sure my Black dollar (earned from this Black business), touches three Black hands before it leaves our community.
Our agenda also means we support Black political candidates (unless they follow a different agenda). And even then, we provide voice, be-cause information and options equate to power, and an ill-informed com-munity will make myopic decisions. Or worse yet, fall for the political "Okie-Doke" in which we are pawns in a game we mistakenly think is checkers.
That's why we featured Black Republican candidate Tim Roberts on the front page (above the fold, no less) in a recent edition. You may not agree with his philosophy, but he's a brother nonetheless.
And this newspaper gives voice to the voiceless. That's why the Black Press was created. We followed the motto of Russwurm and Cornish, founders of the Black press who declared: "we wish to plead our own cause…"
As such, we wouldn't have a problem educating our family about the six Black women running for congress as Republicans, or dozens running on little known Black independent party tickets. None have been acknowledged by the major "silver rights organizations," or White media and thus Black folks are denied an opportunity to ascertain their platforms or use it as leverage.
From a Black Nationalistic perspective, I look beyond labels and focus entirely on who can empower our village, or at the very least, address the issues of importance to us.
Being a Black Nationalist made it difficult for me to accept the status quo in Tuesday's elections.
Not because the two main candidates' positions were not clearly de-fined. But because neither of them addressed issues of encompassing importance to the Black community.
Both ignored the nation leading Black unemployment rate, or more specifically poverty index. There are 10,000 Black households earning less than $10,000 annually, meaning they must beg borrow or steal just to survive. Thousands are one check away from "three hots and a cot."
Nor did incumbent Scott Walker or governor-elect Tony Evers ever mention racial profiling, the affordable housing crisis or the entrenchment of "educational apartheid" in Milwaukee.
Indeed, that latter issue provided me with a unique puzzle to sort out as I headed to the polls yesterday, as neither candidate talked about the most crucial issue facing Black Milwaukee: educational apartheid.
Black Nationalists fought for school choice, an empowering apparatus created by low-income Black and Hispanic parents to provide options to failing government schools.
Led by the late Black Nationalist Annette Polly Williams, the school choice crusade was intended to provide poor "minorities" the same options that Barack Obama (and most of those who oppose it for the poor) made for his children.
While Walker and Evers tried to convince voters that they were both the educational czar, and both noted outstate Wisconsin's ranking on the national education scale, neither talked about the crisis in Milwaukee, where a 48% drop out rate for Black children originates from the lowest fourth and eighth grade reading proficiency rates in the United or Con-federate States of America.
Walker did support school choice, but his policies ignored the plight of those Black students who were left behind or attended ineffective schools or private schools accepting scholarships to the MPCP.
And Evers? He was head of the state department of Public Instruction for eight years, and in general, the plight of those attending government schools worsened, even as he expressed opposition to alternatives or re-forms.
And I don't see that changing with his election as governor. Indeed, he declared he would reverse Walker policies and empower the teachers' union (which has blocked every reform that would improve the quality of education, while blaming the children for their failures), and terminate school choice.  That means 40,000 children will be denied the same options a majority of teachers enjoy—and utilize.
According to one national study, Milwaukee has the highest percent-age of public-school teachers who send their children to private schools. Yet, they fight for our children to seek options.  Indeed, only the blind can't see that opposition to school choice is not about the welfare of Black children, but instead controlling resources and the viability of MPS employment. Forcing the 40,000 children in private, charter and virtual schools to attend government schools will ensure jobs, which another study revealed is the 13th highest in the country. But are the results that high for Black children? How about the 13th lowest.
I was privy to a meeting recently of Black clergy who raised the ques-tion of the future inability of school choice under Evers' leadership.
Many of the so-called choice sectarian schools are run by Black churches, providing students with not only a cultural foundation, but a value—God inspired—curriculum. Their schools provide not only education, but employment opportunities for thousands, safe havens for children, and an economic boon unequalled by any initiative in the state.
But the union hates them not only because they tout that BS about separation of church and state (the church was the first "public school" and the Bible was the first "text book" used in most government schools), but more so because they don't know that the Fugitive Slave Act was rescinded.
We need to be truthful about what this debate is really about.
It's not as much about the welfare of children as it is about dollars and "uncommon" sense.
If Black parents controlled the finances or had the wherewithal, most would exercise their options outside of the "educracy." They would choose Messmer or Milwaukee Collegiate Academy or CTK over all but a few MPS schools.
Indeed, it speaks volumes that a recently released analyst by MPS showed less than 5% of North Division's student population chose to attend there. Why? Because North is the worse school south of the Mason Dixon Line, which lynching victim and the late Black Holocaust Museum founder James Cameron once explained starts at the Canadian border.
Indeed, if this ongoing civil rights battle was truly about what's best for poor and po' Hue-man children—underachievement and miseducated—the union would have embraced and sup-ported the "school choice" proposal when it was first introduced by Milwaukee Public Schools Superin-tendent Robert Peterkin who sought a public/private partnership back in 1988.
Peterkin, who was run out of town by the union, made the mistake of acknowledging community schools like Harambee and Urban Day were educating "Hue-man"-children when MPS could—or would—not.
Polly Williams, herself a declared Black Nationalist, interceded when the union sabotaged Peterkin's attempt, and supported by an impressive coalition of minority parents and activists, marched the MPCP bill though the legislative minefields where it was signed into law by the only Republican governor, Tommy Thompson to get over 40% of the Black vote.
Some of you (anti-choice folks) are tired of hearing me go off about school choice, Black empowerment and our being taken for granted by the party that ignores our loyalty to placate another special interest—the teachers union. So be it.
But I hope you can at least see clearly enough to realize we're just pawns, whose agendas are always put on the back burner.
According to the union's social media, Evers will restore (whatever that means) union influence and start an initiative to kill school choice.
That's good for the union members, but where will it leave the thousands of Black children who attend the successful private schools. What will that mean for Black parents who chose what they consider safe environments, schools that are grounded in religious values (it's about prayer vs. preyed) or with cultural foundations that catapult our students to greatness.
I support several of Evers' initiatives including reducing prison "enrollment" (Wisconsin has the highest Black male prison rate in the country), raising the minimum wage, and more money for education (I have always supported public schools, where most of our children attend, but I don't support the educracy and decry what is obviously a system of apartheid that leaves most—MOST—of our children undered-ucated and feeding disenfranchisement and criminal-ity).
But unlike far too many African Americans, I put our people's interest before that of any other special interest, political party or economic system.
Moreover, I'm a Black Nationalist, which means I am preparing myself for what the future will bring. Whether the new administration will follow the philosophy of the two President Johnsons who led this country—L.B. or Andrew.
Hotep