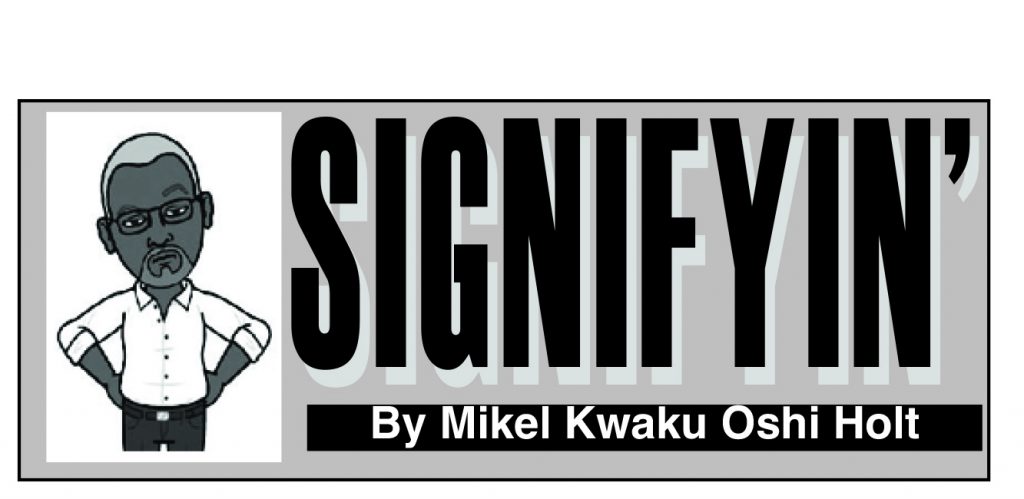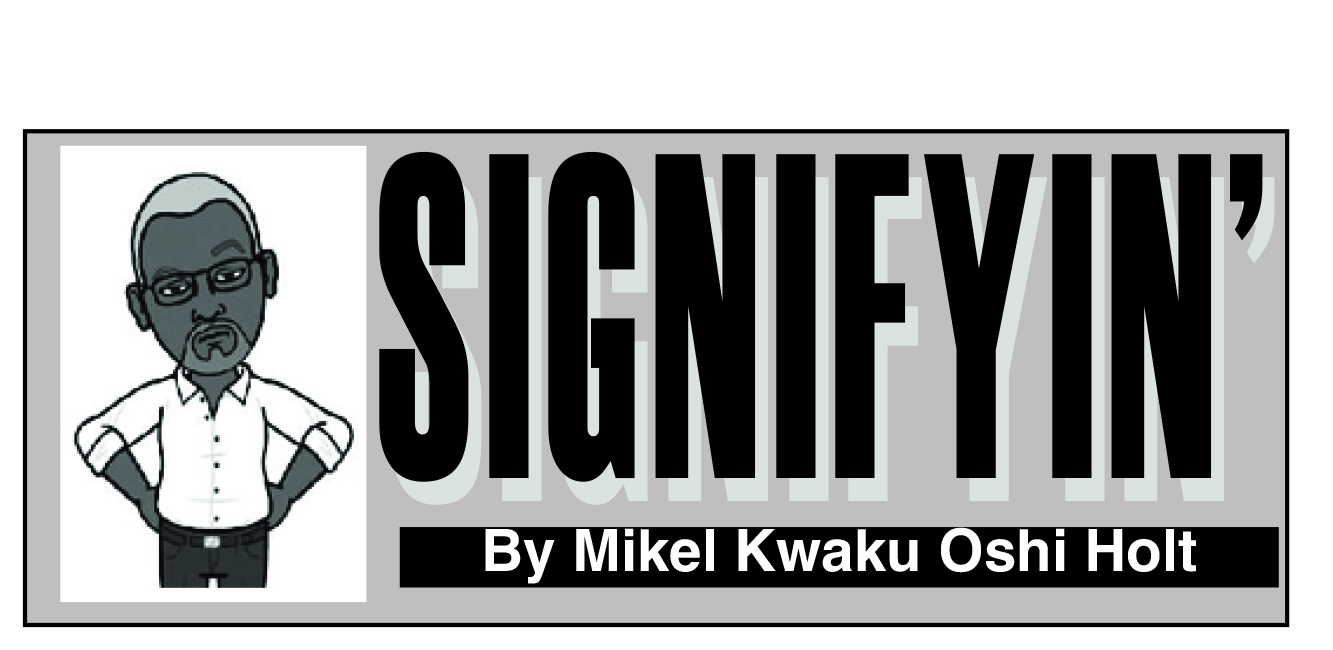 By Mikel Kwaku Osi Holt
Which would you rather be called: "colored," or a "nigger"?
I grew up being called colored and didn't take offense. But nigger? I detest the word whether it comes from a racist, a brother, sister, or even a "colored' person.
Most of us battle-fatigued civil rights soldiers feel the same way.
Conversely, many recipients of our campaigns—including many liberal "massas"—think "colored" is not only outdated, but ranks up with "coon" and "Kaffir" (which is White South African Afrikans for the "nigger") as an offensive, racist adjective.
The liberal media in Huntington Beach, California has been on a tear and in full cavalier mode over a local school board member's reference to Black folks as "colored."
One headline in the Orange County Weekly newspaper called the remarks by Gracey Van Der Mark "bigoted."
Van Der Mark defended using the adjective—or is it a noun?—colored in a YouTube video, noting that the NAACP is an acronym for "National Association for the Advancement of 'Colored' People".
She has a point. Sort of.
But you have to take Van Der Mark's comment in context.
Her remarks came as a Alt-Right, neo-racist public official barged into a "white privilege workshop" held in Santa Monica, and charged that the meeting was organized by Jewish seniors who had "duped" Black people into staging the session.
According to Van Der Mark, Jews have historically "used" African Americans to do their bidding, pushing us to advance civil rights crusades that will benefit them more than us.
I won't get into a debate about that accusation. I will note, however, that Jews and African Americans share a history of victimization by global oppression. The cloud of bigotry has fallen evenly on our ethnicities.
Four million Jews were murdered by Hitler, and an untold number escaped to America only to face another form of bigotry by so-called WASPs who viewed them through the same lens as their German persecutors.
Upwards of eight million (let me spell that out 8,000,000) Africans were killed during the Maafa (the transatlantic sojourn from the Motherland to hell, aka America), and during the worse form of slavery known to mankind. Those who survived (not to be appreciated by "Con-ye" West) found themselves lynched, bar-be-cued or disemboweled as the adoring crowds called them niggers.
It's true, Jews were involved in the formation of the NAACP, and some say they were in leadership positions.
If that means they "used" us, so be it. But I don't think anyone could have led W.E.B. Dubois or Ida B. Wells, co-founders who put the civil rights organization on the map.
Obviously, not all Jews were in our corner, and some had ties to the same system of apartheid that limited opportunities for both of us, but there were also many Jewish Americans who marched beside us in the various civil rights battles. Dozens of Jewish Americans died for voting rights and during the freedom bus rides to challenge Jim Crow and American Apartheid (maybe that word Apartheid should begin with a small "a").
The last two decades have witnessed strained relations with Jews, some of it linked to their hatred for Minister Louis Farrakhan and Barack Obama, Black leaders idolized by many African Americans.
Yet, no one can deny that most Black leaders, particularly politicians and the heads of civil rights organizations, have no problem sharing a bed with Jews (although many will say they are not under the covers).
The reality is that they support civil rights and political organizations when we have not.
So, from that perspective, they have influenced our agenda. Don't like it? Change the paradigm by supporting something besides barbershops, the church and the dope man.
But the focus of this column is not on our relationship with Jews, but instead about whether the adjective "colored" is offensive.
Most folks my age grew up "colored" and "Negro." I don't remember my parents or grandparents ever taking offense to being called either one. But nigger, on the other hand…
Some of us have made colored and Negro offensive, as if being outdated implies irrelevancy or negativity. Many of us have linked those adjectives/nouns to an era of overt oppression, as if apartheid and bigotry ended with the Civil Rights Act. Strangely, some folks believe Negro has the same meaning as nigger.
In fact, I've written about the reactions I have received when I wear one of my "Not a House Negro" tee shirts. The implication is that since I don't refer to myself or anyone else as a nigger, that "Negro" is a kinder, gentler way of saying it. Kinda like the term, "n" word, a universally accepted way of getting past saying nigger. But I've always thought that was a stupid, redundant expression. That's why I say "nigger," because that's not only the proper word, it's the offensive expression of what I meant to say. And I say it loudly and often with all capital letters, because I don't want to sugar coat a cancerous growth that is eating away at the core of our culture and humanity.
NIGGER, NIGGER, NIGGER. It doesn't mean Black or African American. If it did, that means that Jesus the Christ is a NIGGER.
Offended?…Good.
By the way, for the ill-informed, my t-shirt refers to my being a "Field slave," versus a "House slave." This takes us to Lena Taylor and how her use of that negative expression has put her on the world stage.
State Senator Taylor has come under attack—ironically mostly from Whites—for calling a bank teller a "House nigger." Oh, excuse me. She called the brother (a Black man) a "House Nigra," as if that's somehow different than nigger other than its ghettoization.
Many in the Black community have come to Lena's defense, noting that the fiery politician used the term in a way that is acceptable in our community.
I'm not among that naïve and disingenuous segment.
Don't get me wrong, I love me some Lena; I would go into battle with her anytime. I consider her to be among the few independent Black voices in politics, an elected official that puts her people before the party. Which is, in truth, why she was recently thrown off the powerful Joint Finance Committee last week.
The Democratic Party leadership supposedly took that unprecedented action based on a complaint from a former aide. But everybody except the Tooth Fairy knows the truth: It was orchestrated because Lena is a loud-mouthed, uppity "Field Slave" who wouldn't stop complaining about racism and injustice, and, her party's inability, or unwillingness to do anything about it.
That her dismissal coincided with the "House Nigger" comment was a Godsend for the Dems who tried to lump the two incidents together, assuming that negative publicity about Lena's confrontation at the bank would provide them with cover.
Unfortunately, many Black folks were confused about whether the chicken or egg came first, and also linked the two incidents together.
But I'm not among them.
Lena was politically lynched supposedly for the staffing complaint. She deserves criticism for calling another "colored" person a nigger.
If you look in the mirror and see a nigger staring back at you, you're still a slave, house or field. If you consider your brother, sister or mother a nigger, the chains have been moved from around your wrist to your head (meaning your brain—or mind—is still enslaved).
And if you're not offended if I call Jesus a nigger, there is truly a hole in your soul.
Willie Lynch spelled it out in his manifesto about how to keep the slaves in place for 300 years.
Part of his recipe for maintaining obedience and a sense of subordination in his slaves—and their descendants—was to inject a subconscious cancer of self-hatred and inferiority into his subject: Teach them to hate each other, to denigrate themselves and each other, to cement their feet in the bloody ground of apartheid while standing under the shadow of slavery.
"Nigger," or "nigga," or "nigras," or whatever you want to call Jesus, or Nat Turner, to Martin Luther King, or Malcolm X or your mama, keeps us in bondage.
Obviously, not all of y'all agree with me. Some of you believe you have changed the paradigm, and taken the hatred out of the adjective and recreated it as a noun of endearment.
Yeah, right. Tell me, which one of you will smile and befriend a racist who calls you a nigger?
I bet a dollar against a dime that if a White person (except for a liberal, who we've given a pass to along with the keys to the freedom train) calls you a nigger you will respond by putting your foot up that bigot's behind. And chances are in Wisconsin you'd be justified because a judge once ruled nigger is a fighting word!
Conversely, I might look at a White person who calls me "colored" with curiosity. Or, I will accept it as an oversight if they are old, a Hillbilly or a member of the Trump family.
If it is meant in a disparaging way, I'll probably laugh, or tell them I haven't been colored since I was 10 years old. I might even call them one in return, explaining we are all colored—like the rainbow, exclusive of blue—and there is but one race, and it started off being Black, which in Spanish is spelled Negro.
Which takes me back to my original question. Which would you rather call Jesus?
Shem Hotep.