New book by LA Long, entitled "Daddy Oh Daddy," is a part of a national campaign called #AbsenceNoMore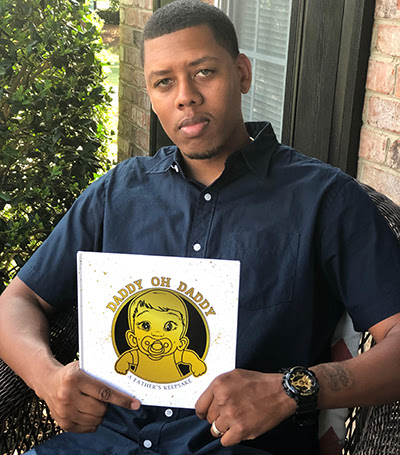 North Carolina (BlackNews.com) — LA Long, an African American mental health professional, is proud to offer his debut work, Daddy Oh Daddy, available now online at www.daddyohdaddy.com.
The campaign #ABSENCENOMORE is the driving force behind Daddy Oh Daddy, the illustrated keepsake for expecting fathers. The book is designed to provide dads with their own significant moment, one where they too can share as being part of the childbearing process. To often, children relate their birth to the mother and question where the father was. Daddy Oh Daddy provides dads with evidence, time stamping that moment when a conversation with their child occurred, before they were born. Awkward in nature? Not at all, most men have the instinct to caress and have talks with the baby in the womb. The difference is that Daddy Oh Daddy curates the dialog, makes the experience fun and colorful, along with applying practical scenarios of being a parent.
#ABSENCENOMORE is the movement to empower fathers and highlight the balance of parenting. Let's say goodbye to children raised in single parent households feeling the need to attribute the absence of a father as the motivation to succeed.
According to an article by Robert Rector (www.heritage.org), "Throughout most of the 20th century, marital childbearing was the overwhelming norm in the United States. Nearly all children were born to married couples. When President Lyndon Johnson launched the War on Poverty in 1964, 93 percent of children born in the United States were born to married parents. Since that time, births within marriage have declined sharply."
Daddy Oh Daddy was created to establish that initial bond between the father and child. The book is a resource to promote co-parenting, regardless of the relationship between the parents; married or not. The goal is to foster a stable and healthy environment for the child to develop.

About the author
A product of a married household, LA traveled the world as a military dependent. At times his father was absent due to deployment for months, therefore, he is not unfamiliar to special moments and time missed. LA relates the presence of his dad when he was around as being the key to their close relationship and a commitment that fathers should embrace regardless of life's obstacles. As a mental health professional LA has worked extensively with troubled youth and observed a continual theme; an absent or emotionally uninvolved father. Now a father of two, LA is using his voice to celebrate fatherhood, encourage respect amongst parents, and speak out for the beautiful little ones born about every eight seconds.