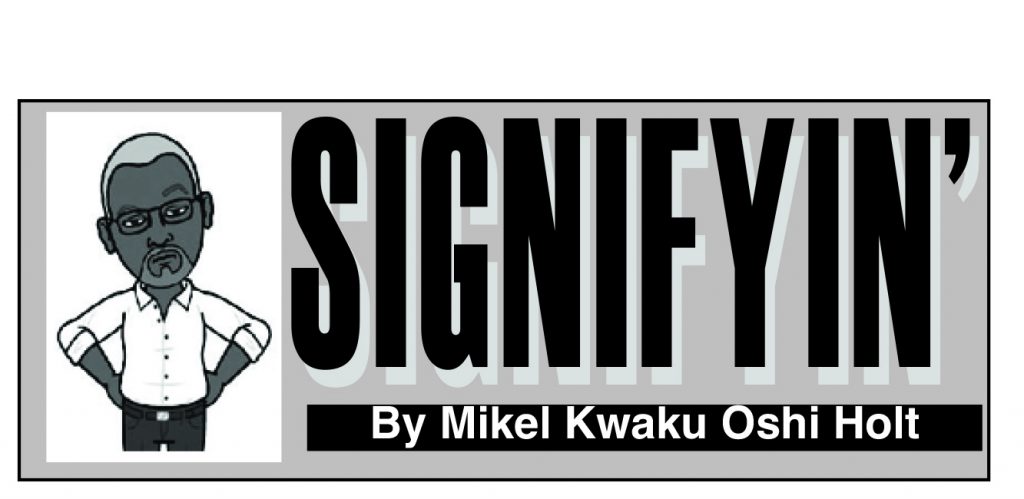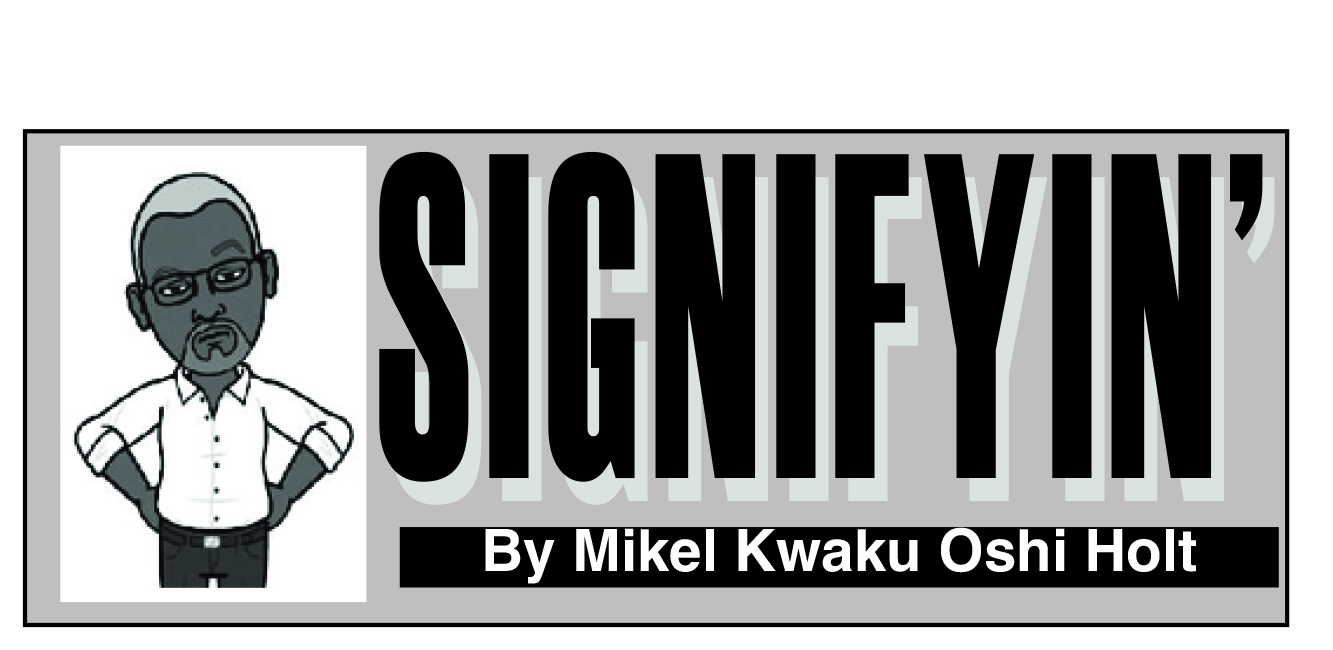 Signifyin'
By Mikel Kwaku Oshi Holt
With so many stereotypes and prejudges providing the only window to our world, I love it when White folks ask a serious question about any aspect of Black life.
Thus, I was thrilled when the waitress asked me about a button I was wearing.
She was somewhat embarrassed when she asked what it meant, offering that it was actually her boss who had made the inquiry. No matter, I thought, knowledge is power, and if I could educate him, maybe he'd pass along the blessings.
Her boss was a middle-aged Greek man (a hint to where I was dining), who had been in America for only a brief time. His relative had invited him to Milwaukee to work in the family diner, a scenario most Black folks (not including Africans) have yet to adopt.
He was working the cash register when I entered, but walked the few feet to my table to hear my response.
He too seemed somewhat embarrassed as he turned to me with a half nervous smile, staring intently at the button on the label of my sports jacket which read: "We don't have any Black bitches."
"Well, it's a response to gangsta rap artists, Black comedians and their naïve, impressionable followers who denigrate Black women by referring to them as bitches," I explained.
"Oh yeah, rap music!" the restaurant manager mused. "Even my daughter like your rap music. Why they call women bitches, though? That's a bad word is it not?" he asked in broken English.
"Yeah, of course," I responded. "It's part of a sub-culture that too many Black men and women, boys and girls have embraced without fully understanding its consequences.
"We treat our women with the utmost respect, is that not how your people act," he asked. "Women, they are our mothers, sisters and wives. My daughters, I treasure them. They are God's gifts to us. Don't your people feel the same?"
I was now embarrassed, searching for words to explain this dichotomy. "Of course," I said, somewhat defensively. "But our youth are rebelling, or are trapped in a subculture of poverty that promotes self-degradation and self-destructive behavior. It is the byproduct of 400 years of social brainwashing. The Willie Lynch programing …"
"Who? Willie Lynch? Did he invent lynchings?"
"Naw, but he may have well had. He came up with a process through which to permanently ingrain a slave mentality in Black people; to pit us against each other and to undermine our culture and self-esteem. Some of this rap is an expression of his proselytization…"
"What?"
"Sorry, wrong word.
"Anyway, you can't blame it all on Big Willie," I said.
"Drug exploitation, 'pimpology,' poor educations, and White Supremacy, all play a part in this phenomenon.
"The rappers glorify a negative lifestyle and culture and sadly our children pick up on it; think that's the way of the world, as Earth Wind and Fire wrote."
"What?"
The more I tried to explain, it seemed the more confused the Greek businessman seemed to become. Or maybe I was explaining it to someone without knowledge of true American history.
Off to my right, I noticed the waitress was half smiling, apparently enjoying my unsuccessful attempt to explain the unexplainable.
If that was her thought, she was right. How do you explain insanity?
How do you explain a cultural phenomenon that no other ethnicity on Nyame's earth has to contend with?
So as a journalist who has studied politicians for decades, I redirected the conversation, offering an implausible, but debatable excuse: "It's the water. Milwaukee's lead infested water has made an entire generation brain dead," I offered only somewhat humorously since it has a grain of truth to it.
I'm sure he didn't fully accept that excuse, but he thanked me for my time, told me my meal was on the house, and returned to his register. (Hey, who am I to turn down a meal. I'm just a poor Black journalist with no pension. Politicians get paid to confuse people.)
I only hoped I was successful in planting a seed strong enough to withstand the "fertilizer" some of his Black customers would cover it up with when they jokingly called each other "bitches" and "niggers."
A Black waitress, who heard only tidbits of the conversation, smiled as I was exiting the restaurant. Louder than necessary—or maybe because of it—I acknowledged her as "SISTER" as I pushed through the door.
I hoped against hope that the white waitress and manager observed the affection we shared.
The conversation haunted me as I drove to my next meeting. For whatever reason, my mind floated back to a presentation educator and activist Virginia Grant-Stamper had provided many years ago.
The late queen's words were so powerful and prophetic I wrote them down for reference at some later date. Like now!
Dr. Stamper, one of my favorite instructors from college, spoke about conditions in the African American community from an Africentric perspective. She surmised that one of our greatest problems is the unwillingness—or inability—by too many of us "to accept that we are free".
Too many of us apparently don't recognize that the Civil Rights Movement was successful (at least in providing us with most rights taken for granted by those who blocked the school house, legislative, and out house doors).
"It's obvious that we don't understand or recognize that fact because too many of us don't act accordingly," she explained.
Far too many of us continue to stand under the cloud of slavery—thus, we are psychologically and spiritually enslaved and culturally deficit.
Moreover, we are playing out the Willie Lynch script, displaying the behavior of self-hated and self-destructiveness that allows the "massas" of today to easily control us.
"With freedom comes responsibility," Grant Stamper said, adding we have a responsibility to our community, our neighbors, and of course, our families.
"Men have to stand up and be men to be kings—chiefs. Girls must be trained to be ladies (all of them will become women)—to be queens.
We should ingrain the principles of discipline and excellence in our children, maintain safe and nourishing villages, work toward the collective good of our community, she explained.
That we don't, she went on to say, is a direct result of our slave mentality, our refusal to recognize our freedom and the God (Nyame) spirit that is in us."
"It's time we acted like free people. We can't blame White people for our conditions any more White people don't' put trash on our lawns. They don't force drugs down our veins. They aren't robbing us or exploiting our women," she said.
One reason so many of us are heading down the path to self-destruction is rooted in our lack of cultural identification, she surmised.
We are either so confused we don't recognize our African roots, or have been brainwashed to reject them.
The former UW-Milwaukee Black English and history instructor went on to assert we search for meaning from meaningless self-destructive behavior, grasping for identity through alien actions that ensure the perpetuation of a vicious cycle.
Our children have children without the benefit of the most fundamental foundation—a nuclear family—and raise them to follow in their footsteps.
We then redefine family and as a community, accept the unacceptable.
We embrace welfare as a life style, single-headed households as the norm, sexual promiscuity, drugs and violence against each other as excusable behavior.
As the head of a Black independent school, Dr. Stamper said she sees up close how our children have been indoctrinated to believe they are inferior,  or can't learn because of poverty and skin color. Once she is able to ground them in an African cultural paradigm, to drill in them to accept the fact that they are great and can achieve anything they want, they excel.
"Too many of us have embraced a culture of poverty and despair; they believe that is their destiny.
We live in drug-infested neighborhoods on blocks littered with filth that we refuse to clean up and we call each other "niggers" and "bitches," and then blame our condition on White America. "It is incredulous, at the very least."
Grant Stamper was not only my teacher, but also my mentor. She was a powerful intellect who taught hundreds of future leaders who in turn passed along the knowledge.
She helped link us to the diaspora, and espoused an Africentric cultural paradigm, which if accepted, would empower us and move us closer to Nyame (by any other European name).
My late son, Malik, and Russell Stamper II, were best friends, sharing households and brotherhoods. I was a single parent back in the day, and Queen Stamper served as a surrogate mother. He gave up a basketball scholarship to attend a college with an education major to follow in her footsteps.
Suffering from inoperable cancer, and near death, she nonetheless "left her deathbed" to comfort me when Malik died in a car accident. She performed a libation, and called upon our ancestors to accept him. We then planted a tree in his honor.
At her funeral, I posited that Malik was up, or over in heaven—Nirvana—teaching and she was standing behind him grading papers.
I wish she had been with me at the restaurant, because she could have recited what I recalled only after leaving.
Later that day, I ran into a sister who taught at a private school. She too asked about the button, and this time I recited what Virginia had told me many years before.
The sister listened intently, and asked where she could buy the button because she wanted to use it as subject matter for a lesson for her eighth grade students.
She wanted to incorporate Virginia's "lesson" and make note that she saw a "brother" wearing the button to elicit dialogue in the slave quarters.
Instead of telling her where I got it from, I gave it to her, and wished her well.
Her question brought a smile to my face and lightened my heart.
There is hope, I thought to myself, because the message has been heard. Together, our tiny footprints in the sand might turn the course of the mighty ocean.
And when our job is finished, and we get to the other side, the Queen Mother will be waiting, with a smile on her face.
Shem Hotep.