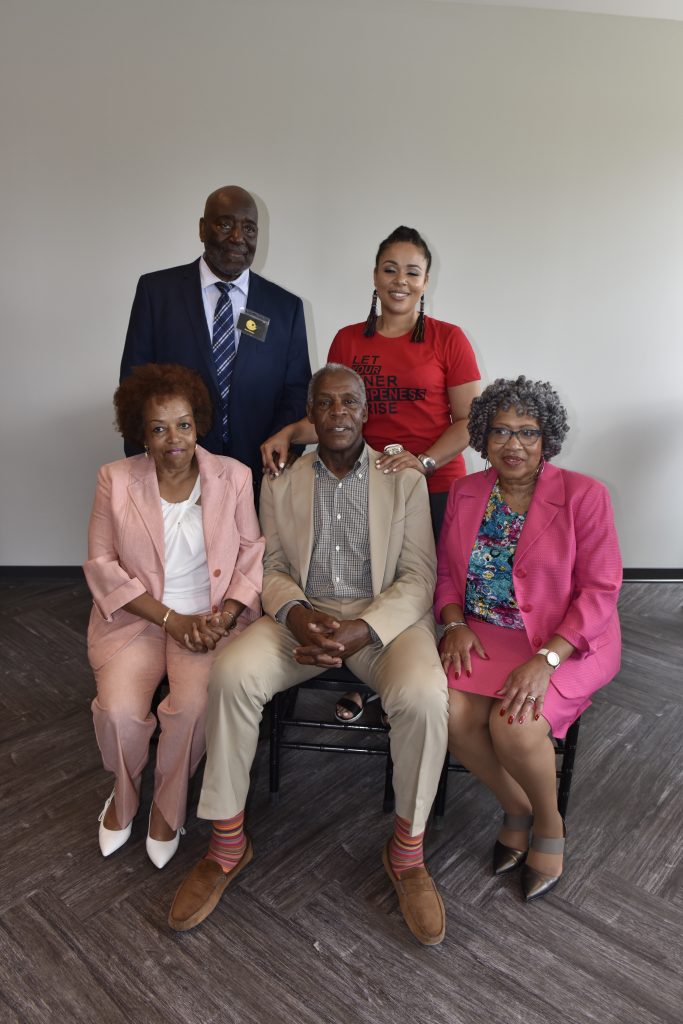 To celebrate Dr. James Cameron's legacy and the re-opening of the museum this fall, The Griot development team and the Dr. James Cameron Legacy Foundation (operators of ABHM) held a very special public two-day celebration featuring actor and advocate Danny Glover and renowned poets, writers, activists Aja Monetand Sonja Sanchez, and musician Elijah Blake.
Monday, June 18th, participated in a question and answer session with the Griot Apartments' primary developer Melissa Goines of Maures' Development. Residents had the opportunity to also meet the DJLCF board members, sign-up for museum membership, register to be notified of upcoming museum-related events and tours. This is a free event. On Tuesday, June 19, noted African American poets Aja Monet and Sonja Sanchez spoke. Music was provided by the legendary The Eddie Butts Band.
A Brief History on Dr. James Cameron and America's Black Holocaust Museum
On June 19th, 1988, 74-year old Dr. James Cameron (1914-2006) moved America's Black Holocaust Museum (ABHM) into an old boxing gym on N. 4th Street in Milwaukee's Bronzeville neighborhood.  Dr. Cameron had opened the museum several years earlier in another nearby storefront. The beloved museum stood on the corner of N. 4th and W. North Ave. for 20 years. Two years after Dr. Cameron's passing at the age of 92, the museum closed its doors in 2008 in the midst of the Great Recession.
But this fall – ten years later – the museum is scheduled to re-open on the ground floor of The Griot building at 401 W. North Ave., Milwaukee.  The museum re-opening is made possible due to the advocacy and financial support of people like you, in addition to very generous in-kind contributions from developers Melissa Goins of The Maures Group and Josh Jeffers of J. Jeffers & Co  as well as many of our production partners.
Dr. Cameron was inspired to open the museum after visiting Yad Vashem World Holocaust Remembrance Center in Jerusalem. He saw many similarities between Jewish and African peoples, including forced marches and migrations, stolen property, dehumanization, slave labor, mass incarceration, and more.  He admired how the Jewish people value their history, especially that of the Holocaust, and the continued impact and effects of anti-Semitism – some of which sadly continues today.  Dr. Cameron saw how Jewish holocaust memorials give strength to Jewish people; he wanted the same for African Americans. It was because of those similarities that the museum was named "America's Black Holocaust Museum."
Strange Fruit
On the night of August 7, 1930, 16-year old James Cameron, Thomas Shipp, and Abram Smith were lynched in Marion, Indiana. Cameron survived the brutal lynching: Shipp and Smith did not. Their lynching, shown to the right, inspired the young Cameron to dedicate his life to fighting for peace and justice.
A photo of the lynching taken by photographer Lawrence Beitler made its way to American writer, teacher and songwriter Abel Meeropol. In 1937, Meeropol wrote the lyrics and composed the music for the song "Strange Fruit" under the pseudonym of Lewis Allan to protest lynchings.
In 1939, Billie Holiday sang and recorded "Strange Fruit."  The song has since been recorded by a large number of musicians, including Nina Simone, Diana Ross, Sting, Jeff Buckley, Annie Lennox, Jill Scott, India Arie, Common, and John Legend.