Christopher Mathias   -Huff Post Black Voices
NEW YORK — A march from New York City to Washington, D.C., to protest police brutality started Monday morning in Staten Island — the borough where Eric Garner died last summer after being put into a chokehold by a New York police officer.
About 100 protesters gathered at the foot of the Outerbridge Crossing in preparation for the nine-day, 250-mile trek. Many wore T-shirts bearing Garner's famous last words, "I can't breathe," and others held signs reading "#BlackLivesMatter."
Sade Swift, a 19-year-old New School student, told The Huffington Post she was marching because she's "tired of creating hashtags" for unarmed men of color killed by the police: #EricGarner. #MichaelBrown. #RamarleyGraham. #TamirRice. #AkaiGurley. And, most recently, #WalterScott.
"I'm tired of seeing all these people that look like me on the news, so that's why I'm marching," said Swift, who grew up in Washington Heights, where she says cops often stopped her on the street.
"I was stopped and frisked multiple times because they thought I was a prostitute," she recalled. "I was 16 years old going to church with a pea coat on."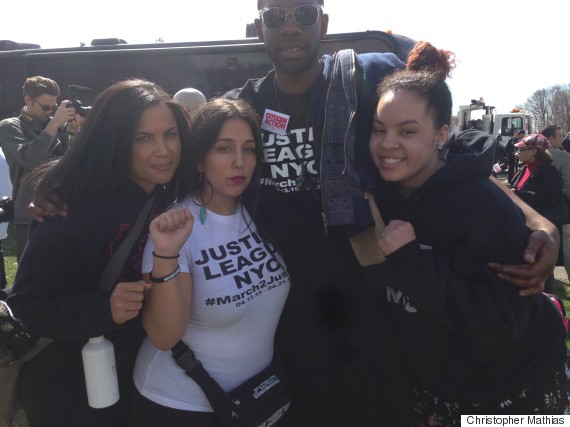 Swift, right, with three fellow protesters ahead of Monday's march.
Swift is a member of The Justice League, the New York-based organization behind the event, dubbed "The March 2 Justice." About 100 protesters are making the entire journey, spokeswoman Lindsey Wagner told HuffPost, and others will join in for different legs of the trip along the way.
NYPD and Port Authority officers closed off the Outerbridge Crossing for an hour Monday morning so protesters could march across the Hudson into New Jersey, then turn north to Newark, where they'll spend the night in a church. They will then head south to Washington. March director Carmen Perez told HuffPost the protesters plan to stay in churches every night along the I-95 corridor until they arrive in the nation's capitol. Fellow activists along the route will provide food and water supplies.
Among the marchers Monday morning was New York city council member Jumaane Williams, who gave a rousing speech to protesters before the march started.
Click here for full post.