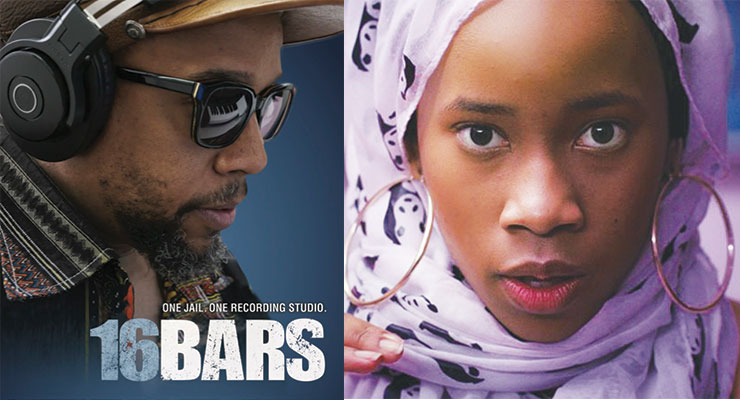 Arrested Development's Speech and his daughter Zoe Renee make a big impact in films that convey important messages at this year's Milwaukee Film Festival
Compiled by MCJ Editorial Staff
Speech, the lead singer of the iconic Hip-Hop group Arrested Development, and his daughter, actress Zoe Renee, are coming to Milwaukee for this year's Milwaukee Black Film Festival.
For Speech it's a homecoming replete with memories of growing up in Milwaukee, the son of a business mom and dad, attending parochial and Milwaukee Public schools; of music always being the dominate force in his life, as if he was born to do only that…and succeeding.
Now the Grammy winning songwriter, producer and singer has made a documentary titled, "16 Bars," that is premiering October 20th at the Oriental Theater.
"16 Bars" is about a unique rehabilitation program in Richmond, VA Speech was involved with that allows prisoners to write and record their own songs. Speech spent 10 days working with the inmates to write and record their original music in a makeshift recording studio.
It's in that studio the inmates unearth painful elements of their pasts as they create original music. Through their collaboration with Speech, the inmates begin to move forward with their lives. The music of the film serves as a rare testimony to the messy truth behind the criminal justice system's revolving door.
It was music's ability to act as a healing balm that Speech sought to be part of the documentary, directed by Sam Bathick.  "I believe in redemption," Speech said in an interview, adding his parents taught him and his late brother, Dr. Terence Thomas, about the issues impacting the Black community, which includes the disproportionate imprisonment of Black men. Wisconsin has the highest rate of Black incarceration of any state in the nation.
Speech's foster son gave him a glimpse into the industrial prison complex. His foster son spent three years in prison. "We were his advocates, we loved him like our own, and yes, he had a lot of clay mired to his psyche and self-esteem; but he's much better. He's reaching to dispel those chains for a lifetime.
Speech said the documentary shares that kind of mission. "The stories are real, they are compelling, they demand thought and effort to reduce the recidivism numbers."
The music artist's fire to champion and help "the least of these" was stoked by his parents, owners of the Milwaukee Community Journal, Patricia O'Flynn Pattillo and Robert Thomas.
Speech recalled helping his parents at age eight deliver the Milwaukee Community Journal to the doorsteps of Black community residents. "I've witnessed their struggle to keep it (the newspaper) alive and also their determination to retain a voice for the Black experience. I guess the desire to make a difference is in my blood…and my desire…and that of my family burns deep in the way my wife and I have brought up our children."
One of those children, daughter Zoe, will be starring in the movie Jinn, which will be one of several Black films showcased under the "Black Lens" series banner of films to be showcased at the festival.
Zoe stars as Summer, a 17-year-old Black girl whose world is turned upside down when her mother, a popular TV news meteorologist named Jade Jennings, abruptly converts to Islam and becomes a different person.
This sudden cultural shift throws Summer's carefree life into upheaval. At first resistant to her mother's newfound faith, Summer slowly warms up to the notion, trying to integrate these new beliefs into her previous Instagram-based existence, all in an attempt to suss out her true identity.
Jinn has been called a winning portrait of female self-empowerment and religious tolerance, with Zoe's performance described as "endlessly charismatic." She was also part of the cast of the BET drama "The Quad," and several other roles.
Jinn will make its premiere October 20 at 10 a.m. at the Oriental Theatre. "16 Bars" will also premiere at the Oriental later that same day at 9:30 p.m. Other showings of the documentary will be October 21, at 1 p.m., at the Times Cinema, and October 24, at 10 p.m., at the Oriental.